Ferrosilicon lumps are irregular lumps with a size of 100 mm~400 mm just out of the furnace. In order to facilitate storage, packaging, and use, we crush them into lumps with sizes of 10mm~50mm, 50mm~100mm, and 100mm~200mm. Some customers have special requirements for size, so we will ask for the size of ferrosilicon lumps before crushing them so that we can crush them according to their requirements.
What Is Ferrosilicon Lump?
The electric furnace is the main equipment for producing ferrosilicon, which is smelted into ferrosilicon by heating raw materials such as quartz stone. The size of freshly discharged ferrosilicon is large and needs to be crushed into smaller lumps before it can be more easily packaged and used. According to the user's requirements, ferrosilicon lumps can be divided into natural lumps, processed lumps, standard lumps, etc. Of course, in order to better meet the special requirements of some users, we will provide customized services regarding ferrosilicon lumps, which are more in line with the user's needs in terms of their elemental content, size, etc.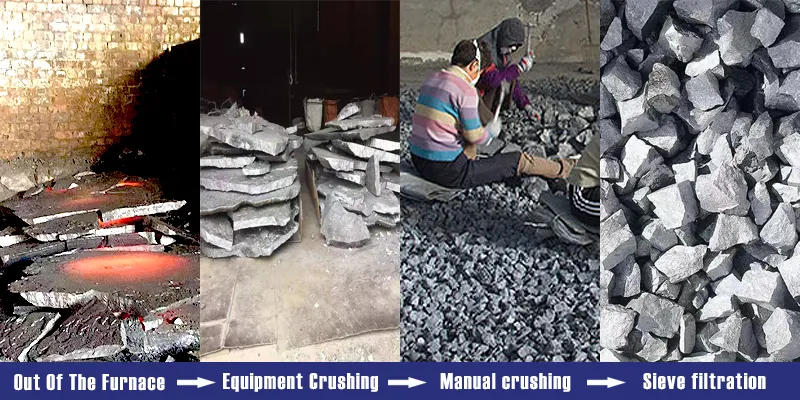 Ferrosilicon lumps are rich in Si and the rest are trace elements such as Fe, Mn, Al, C, P, S, etc. By using machine plus manual crushing to make the ferrosilicon lumps' size more uniform, after this we will also use the screen for filtering, the ferrosilicon lumps that meet the size requirements will be retained, and those that are not qualified will be crushed for secondary processing.
Ferrosilicon Lumps Specifications
Model
Chemical Composition (%)
Si
Mn
Al
C
P
S
FeSi75A
75.0-80.0
≤0.4
≤2.0
≤0.2
≤0.035
≤0.02
FeSi75B
73.0-80.0
≤0.4
≤2.0
≤0.2
≤0.04
≤0.02
FeSi75C
72.0-75.0
≤0.5
≤2.0
≤0.1
≤0.04
≤0.02
FeSi70
72.0
≤2.0
≤0.2
≤0.04
≤0.02
FeSi65
65.0-72.0
≤0.6
≤2.5
——
≤0.04
≤0.02
Ferrosilicon Lump Applications
Reduces the oxygen content of the steel molten.

Reduces the number of oxides in the steel molten.

Improves the form of inclusions in the steel molten.

Make the impurities in the steel molten floating on the surface of the steel easy to clean.

Improves the purity of the steel molten.

Improves the flowability of the molten iron during casting.

Improves the toughness and cutting properties of castings.

Promote the breeding effect in the casting process.
Ferrosilicon Lump Advantages
Improves steel fluids purity.

Effectively reduces oxygen in the steel fluids.

Reduces oxide generation.

Improves steel fluids flow properties.

Has a thermal insulation effect.

Reduces impurities in the steel fluids.

Improves the toughness and cutting properties of steel fluids.
Packaging Method & Delivery Time
Packaging Method: Jumbo bag or customized according to customer requirements
Delivery Time: 7-28 days.
Some Frequently Encountered Problems
We offer free samples for those who are interested in purchasing Ferrosilicon Lump, but you will still pay a shipping fee. You can prepare the required sample specifications in advance and contact our customer service.
We support 30% advance payment by TT, balance against copy BL and other payment, If you want to use other payment ways, please contact us.
We will prepare for shipment according to the customer's order, and we usually ship within 7 working days and inform the customer of this news in a timely manner.
We provide 7X24X365 online service, our technical engineers will be the first to help you solve any problems you encounter while using, and will record and follow up on the problems you encounter while using.